Xinyuan Excavator Breaker Hammer Wheel Excavators Attachment
7 ton 9 ton 13 ton excavator breaker hammer, wheel excavator attachment
Xinyuan Excavator Breaker Hammer is designed to break down concrete, rock, and other hard materials quickly and efficiently.
The advantages of using a wheel excavator breaker hammer include increased efficiency, reduced labor costs, and improved safety. The breaker hammer can complete demolition work in a fraction of the time it would take to do it manually, reducing labor costs and minimizing the risk of worker injuries.
In conclusion, the wheel excavator breaker hammer is a powerful and efficient tool that is essential for any construction or demolition project that involves breaking down hard materials. Its ability to quickly and efficiently break up concrete, rock, and other hard materials makes it an invaluable asset on any job site.
Basic Info
Xinyuan Excavator Breaker Hammer Parameters
Suitable for Excavator model
7 ton excavator
9 ton excavator
150 series
Model
XY75 triangle hammer
XY75 straight hammer
XY90 triangle hammer
XY90 straight hammer
XY150 triangle hammer
XY150 straight hammer
Diameter of brazing rod(mm)
68
85
100
Wheelbase(mm)
260
315
390
390
Weight(kg)
240
254
559
637
753
817
Flow(L/min)
40-70
60-100
80-110
Pressure(kg/cm²)
110-140
130-160
150-170
Frequency of strikes(bpm)
500-900
400-800
350-700
Relief valve pressure(kg/cm²)
150-160
160-180
180-200
Nitrogen chamber pressure(kg/cm²)
16.5
16.5
16.5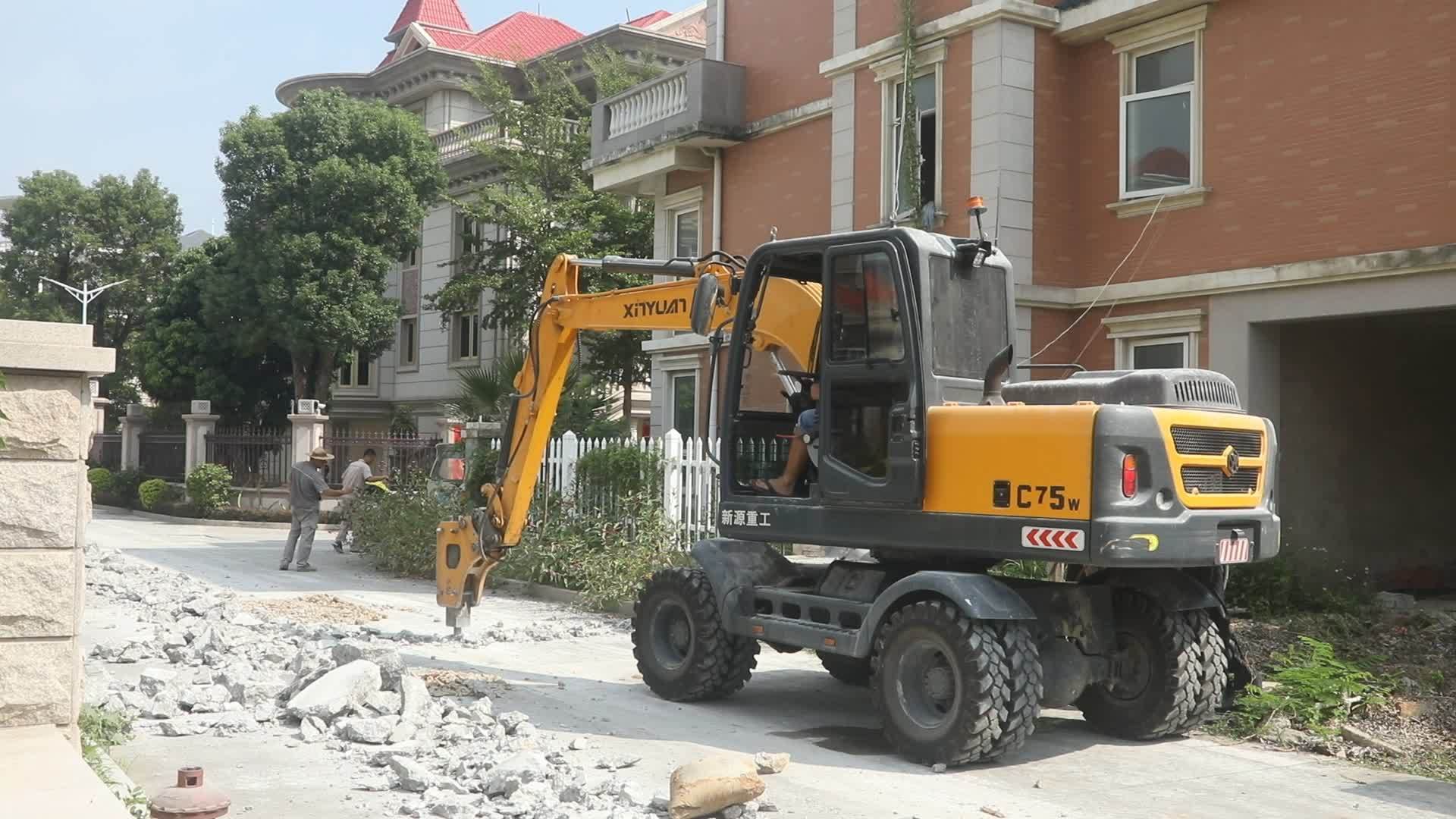 What are your main products?
---
Wheel excavators. We specialize in designing and manufacturing wheel excavators for more than 30 years.
Are you a manufactuer or trading company?
---
What kind terms of payment can be accepted?
---
For terms of payment, We accept T/T.
What certificates are available in Machinery?
---
We currently have CE, ISO9001, ISO14001, EAC certificates and more than 200 patents and certificates.
What about the delivery time?
---
Normally 7-15 days after receiving the deposit. In case of force majeure, time will be extended.
What about the Minimum Order Quantity?
---
What is your port for export shipping?
---
Get product quotes for free
Our staff will contact you within 24 hours (working days). If you need other services