XYC150WT 13 ton High Quality Wheeled Excavator with Long Boom and Arm Hotsale
Xinyuan New Wheel Excavator model XYC150WT has the distinctive features of high efficiency, energy saving, flexibility and reliability, which can create higher value for users under the working conditions of municipal maintenance works, highway traffic construction and quick repair. Operating Weight: 13ton. Engine Model: YUCHAI A05160. Rated Power: 118kw/2200rpm. Bucket: 0.55m³
Basic Info.
| | | | |
| --- | --- | --- | --- |
| Model No. | XYC150WT | Drive Type | Internal Combustion Drive |
| Bucket Capacity | 0.55m³ | Size | Small-Sized |
| Certificates | CE, ISO9001:2015, ISO14001:2015 | Condition | New |
| Machine Welght | 12500KG | Engine | YUCHAI |
| Power/speed | 118KW/1800rpm | Max Digging Force | 75kn |
| Max travel Speed | 30km/h | Transport Package | Nude Packing |
| Specificatlon | 7790mm*2520mm*3150mm | Trademark | Xinyuan |
| Origin | China | Production Capacity | 10000 Pieces/Year |
Product Description
Xinyuan New Wheel Excavator model XYC150WT has the distinctive features of high efficiency, energy saving, flexibility and reliability, which can create higher value for users under the working conditions of municipal maintenance works, highway traffic construction and quick repair.
Lower Emissions More Environmental Friendly
The professional regeneration strategy specified for wheel excavation, the differentiated calibration in different speed range has better power response, better fuel economy and longer regeneration cycle.
Advanced Hydraulic System
With the advanced hydraulic system, the hydraulic power needed for distribution is precisely controlled, and the compound action of the whole vehicle is faster and smoother, and the power loss of the hydraulic system is reduced to a greater extent. The system has better controllability and higher productivity.
Extended Working Device
Standard equipped with extended working device, movable arm 4600mm + bucket bar 2500mm, can achieve greater construction range, reinforced main arm support, better overall torsional resistance, fatigue performance, scientific articulation point design, greater digging torque, robot welding, high quality and more stable welding seam.
Wrap-around Rear Configuration
Tail center of gravity sinking structure, can effectively balance the overall mass of the machine, important 2.1 tons, better operational stability. The overall ring hugging shape design can better protect the body and prevent internal parts from damage caused by collision.
Large Fuel Tank
Adopt 310L large capacity with energy-saving power, can have a longer endurance.
Stable Chassis and Travel Device
Variable hydraulic pump driven travel motor
Can absorb shocks and prevent overloads
Optimal matching of transmission system and engine from page to page
Improves fuel economy and power of the vehicle
Improves ease of handling and ride comfort for the driver
Braking System
Adopt the unique dual-way hydraulic wheel-side braking system
Front and rear axles are equipped with two sets of independent wet braking system
Can provide double protection for driving braking, safer.
Special Arngineering Tires
Special engineering tires with many patented technologies
Developed and designed for rough working conditions
Better overall support, higher stability
Longer service life
Comfortable Driving Space
Spacious and comfortable interior structure
Ergonomically designed operation layout
Large size kilometer design, wide view and small blind area
Double track suspension seat, flexible adjustment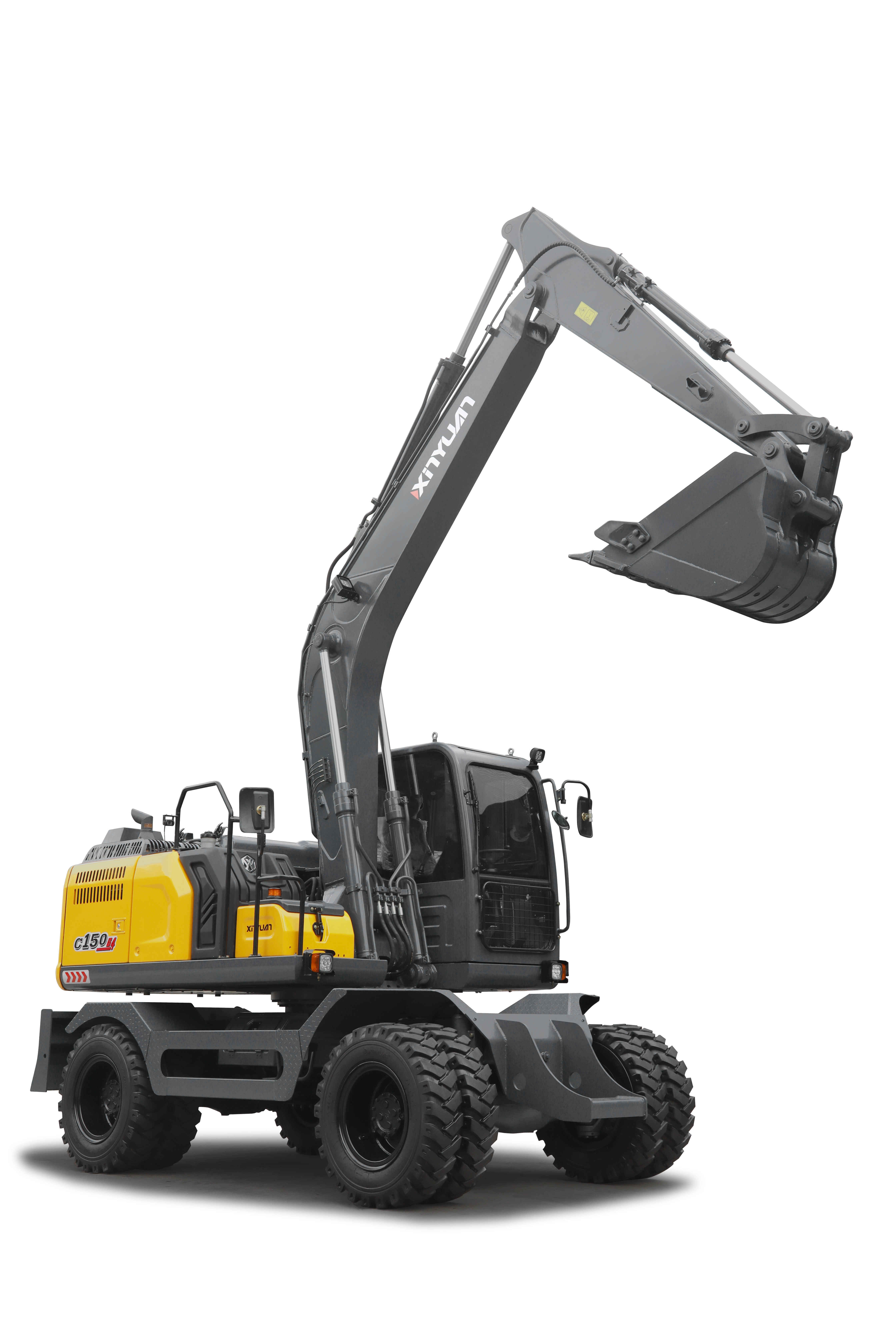 SPECIFICATIONS
RANGE OF OPERATION
Max Digging Reach
8390mm
Max Digging Depth
5295mm
Max Digging Height
9060mm
Max Dumping Height
6415mm
Min Front Radius
2470mm
Min Tail Radius
2318mm
DIMENSIONS
Overall Length
7790mm
Overall Width
2520mm
Overall Height
3150mm
Wheel Base
2800mm
Tyre Type
900-20
Width of Grouding
560mm
Track
1975mm
Min Ground Clearance
360mm
Width of Bulldozing
2520mm
Rising distance of Bulldozing
540mm
Height of Bulldozing
80mm
Width of Bucket
900mm
TECHNICAL PARAMETERS
Model
XYC150WT
Engine
YUCHAI A05160
Rated Power
118KW
Rated Speed
1800rpm
Machine Weight
12500kg
Volume of Bucket
0.55m³
Set Pressure of Main Overflow Valve
32Mpa
Max Digging Force
75kn
Gradeability
35°
Max traction Force
55kn
Max travel Speed
30km/h
Swing Speed of Platform
8.5rpm
Fuel Tank Capacity
310L
Hydraulic Tank Capacity
240L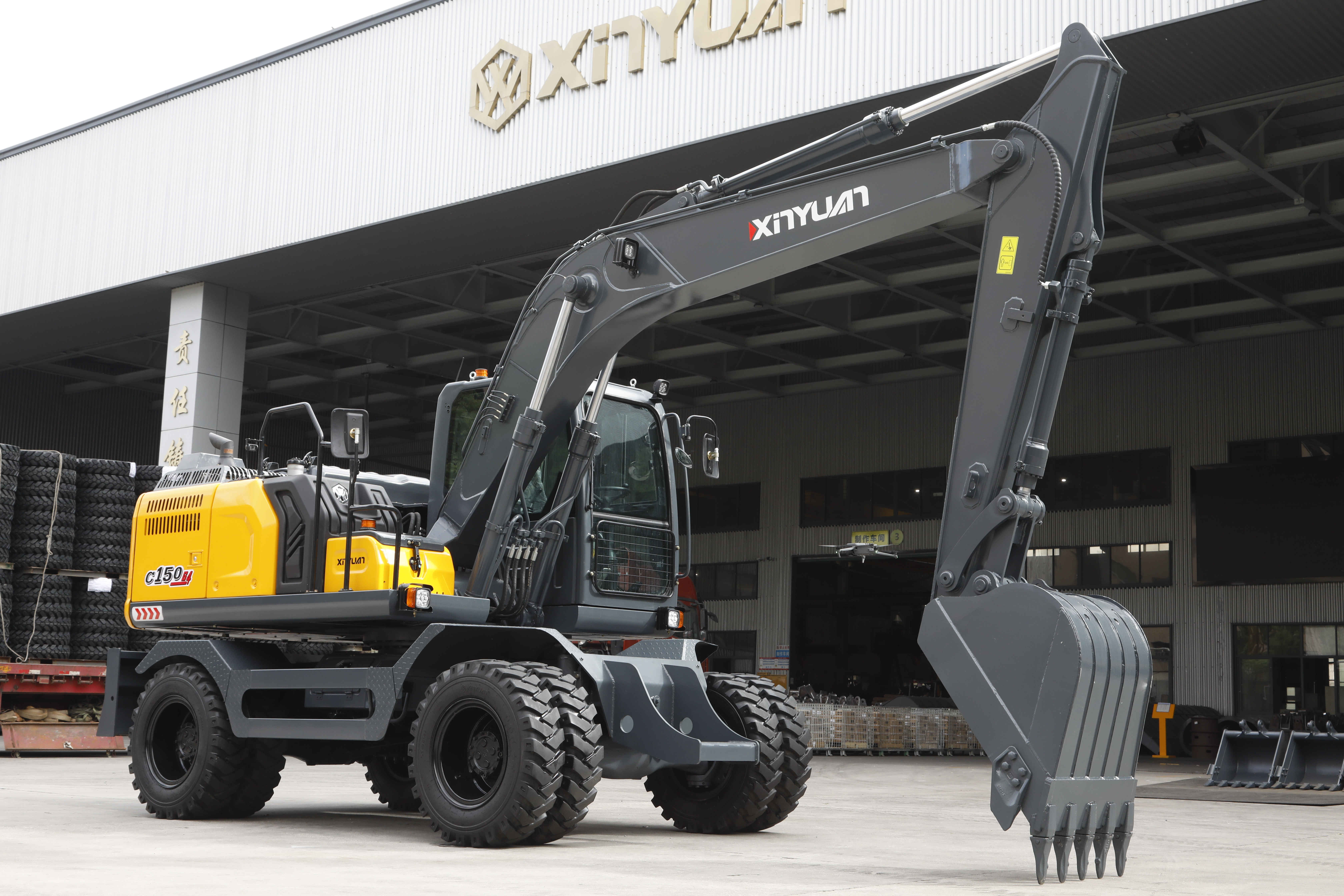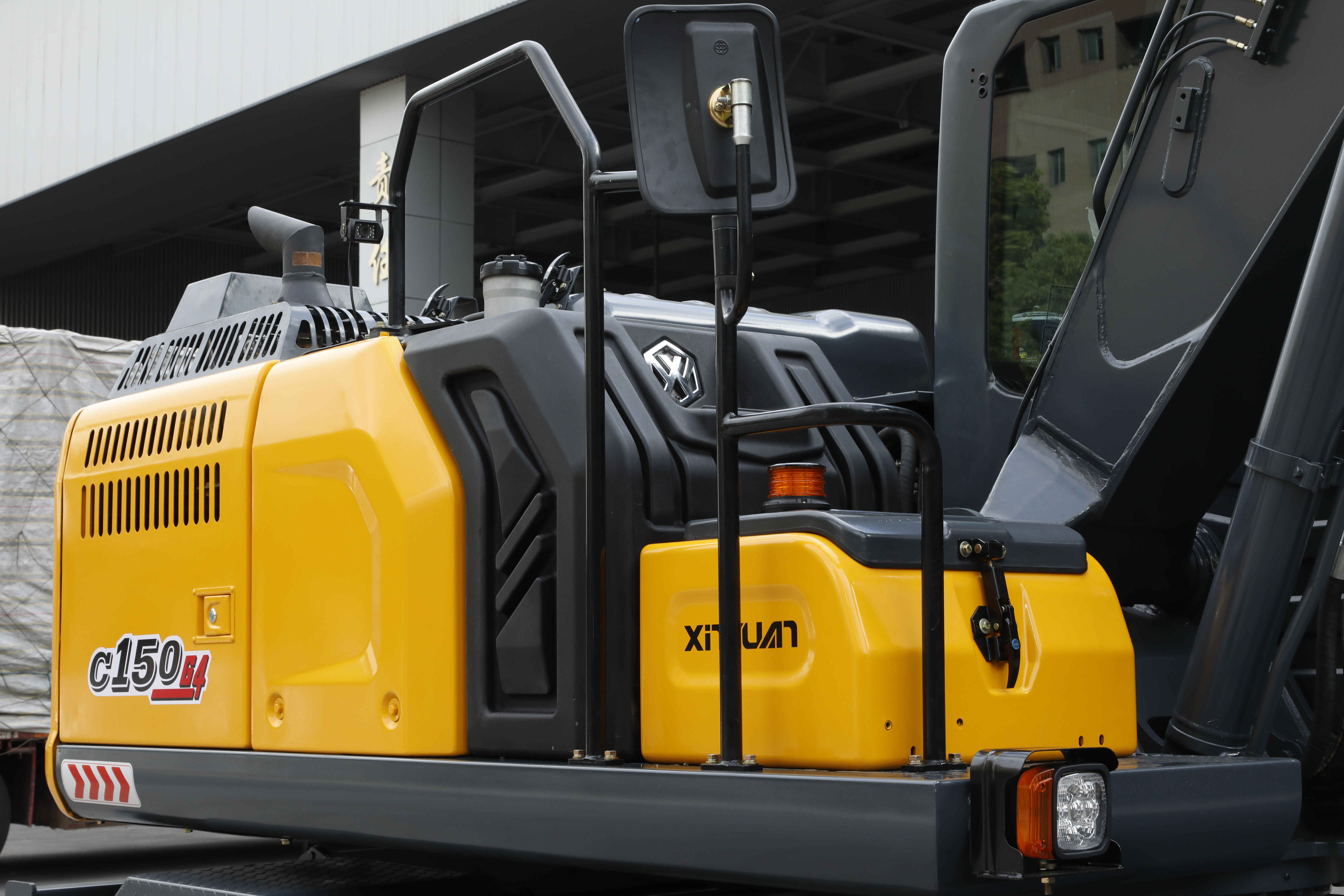 What are your main products?
---
Wheel excavators. We specialize in designing and manufacturing wheel excavators for more than 30 years.
Are you a manufactuer or trading company?
---
What kind terms of payment can be accepted?
---
For terms of payment, We accept T/T.
What certificates are available in Machinery?
---
We currently have CE, ISO9001, ISO14001, EAC certificates and more than 200 patents and certificates.
What about the delivery time?
---
Normally 7-15 days after receiving the deposit. In case of force majeure, time will be extended.
What about the Minimum Order Quantity?
---
What is your port for export shipping?
---
Get product quotes for free
Our staff will contact you within 24 hours (working days). If you need other services