XYC105WT Hydraulic Wheel Excavators Machine with Backhoe Bucket
Full hydraulic wheel excavator. Suitable for wood clamp forestry and other clamping works. Operating Weight: 9ton. Engine Model: YUCHAI 4DK. Rated Power: 56kw/2200rpm. Bucket: 0.32m³
Basic Info.
| | | | |
| --- | --- | --- | --- |
| Model No. | XYC105WT | Drive Type | Internal Combustion Drive |
| Bucket Capacity | 0.32m³ | Size | Small-Sized |
| Certificates | CE, ISO9001:2015, ISO14001:2015 | Condition | New |
| Machine Welght | 8300KG | Engine | YUCHAI |
| Power/speed | 56KW/2200rpm | Max Digging Force | 45kn |
| Max travel Speed | 30km/h | Transport Package | Nude Packing |
| Specificatlon | 6020mm*2250mm*2910mm | Trademark | Xinyuan |
| Origin | China | Production Capacity | 10000 Pieces/Year |
Product Description
XYC105WT full hydraulic wheel excavator, Xinyuan Heavy Industries manufacture in accordance with the design concept of real high-end wheel excavator, higher level of configuration, better texture, better workmanship details.
Small Engine displacement, Low Energy Consumption
Yuchai 4FA engine has large displacement, higher torque at low speed and low energy consumption, which can create more economic benefits for customers.
High Flexibility
XYC105WT is equipped with high density of material, which can make the volume smaller and the mass bigger. Better stability without taking up more tail space, with a minimum tail turning radius of only 1945mm, allowing for better performance in tight spaces. Less swing space is required when clamping close to the truck.
High Reliability and Durability
XYC105WT is available in both standard and clamp models, and all of them are equipped with double cylinders of the boom as standard, making it more powerful for both digging and lifting operations.
The clamp model has a longer and stronger boom and bucket bar, which enables a large effective working range and a variety of work attachments to meet diversified needs, making it suitable for efficient production in different working conditions and bringing better profits to users.
The large capacity of 180L fuel tank, with lower fuel consumption power, can have a longer life.
The chassis adopts a wide body design, the whole machine has a lower center of gravity and good operational stability. Uniform mass distribution can better ensure the balance of operation and travel. Equipped with efficient and flexible automatic transmission system, easy and comfortable operation and high efficiency. The fender is equipped with independent mounting base, which can be quickly disassembled and installed during maintenance.
Our self-developed front and rear drive axles have obtained many national patents, and the core components are reinforced and enlarged, which can adapt to more harsh operating environment and meet the requirements of the whole life cycle. Reasonable matching, stable and reliable, low maintenance cost.
Large and Comfortable Cab
With a more spacious interior structure, the driver has more space to move effectively. Large size glass design, wide visibility and less blind spot. Equipped with double rail suspension seat, supporting multi-dimensional adjustment, adapting to different drivers. Ergonomic layout of the operating device, long hours of operation is not easy to fatigue. Equipped with dual high-definition images for reversing and blind spot monitoring, and independent monitoring impact display.
Equipped with heating and cooling air conditioner, creating a more comfortable operating environment. There are electronic throttle knob, cigarette lighter, storage compartment, storage net pocket and other practical configurations, which are in line with the safety standards of hydraulic excavator operating room, equipped with fire extinguishers, escape hammer etc.
Convenience of maintenance
Equipped with the intelligent control system, which can diagnose and alarm more than 800 kinds of faults in power, hydraulic and body in real time, enhance the target of maintenance, significantly reduce the difficulty of maintenance, and can realize the maintenance prompt.
Multi-directional Safety Design
The machine is equipped with enlarged rear-view mirrors to minimize blind spots. There is also an independent light control system. Body reflective sticker design, front and rear driving, operational warning lights. It's also equipped with front and rear cameras, which ensure safer driving and operating.
Environment-friendly
Keeping the exhaust emission in line with our emission standards, the engine is environmentally friendly.
SPECIFICATIONS
RANGE OF OPERATION
Max Digging Reach
6800mm
Max Digging Depth
3980mm
Max Digging Height
7410mm
Max Dumping Height
5290mm
Min Front Radius
2115mm
Min Tail Radius
1945mm
DIMENSIONS
Overall Length
6020mm
Overall Width
2250mm
Overall Height
2910mm
Wheel Base
2500mm
Tyre Type
750-20
Width of Grouding
490mm
track
1755mm
Min Ground Clearance
328mm
Width of Bulldozing
2250mm
Rising distance of Bulldozing
500mm
Height of Bulldozing
85mm
Width of Bucket
720mm
TECHNICAL PARAMETERS
Model
XYC105WT
Engine
YUCHAI 4DK
Rated Power
56KW
Rated Speed
2200rpm
Machine Weight
8300kg
Volume of Bucket
0.32m³
Set Pressure of Main Overflow Valve
25Mpa
Max Digging Force
45kn
Gradeability
35°
Max traction Force
50kn
Max travel Speed
30km/h
Swing Speed of Platform
11rpm
Fuel Tank Capacity
180L
Hydraulic Tank Capacity
165L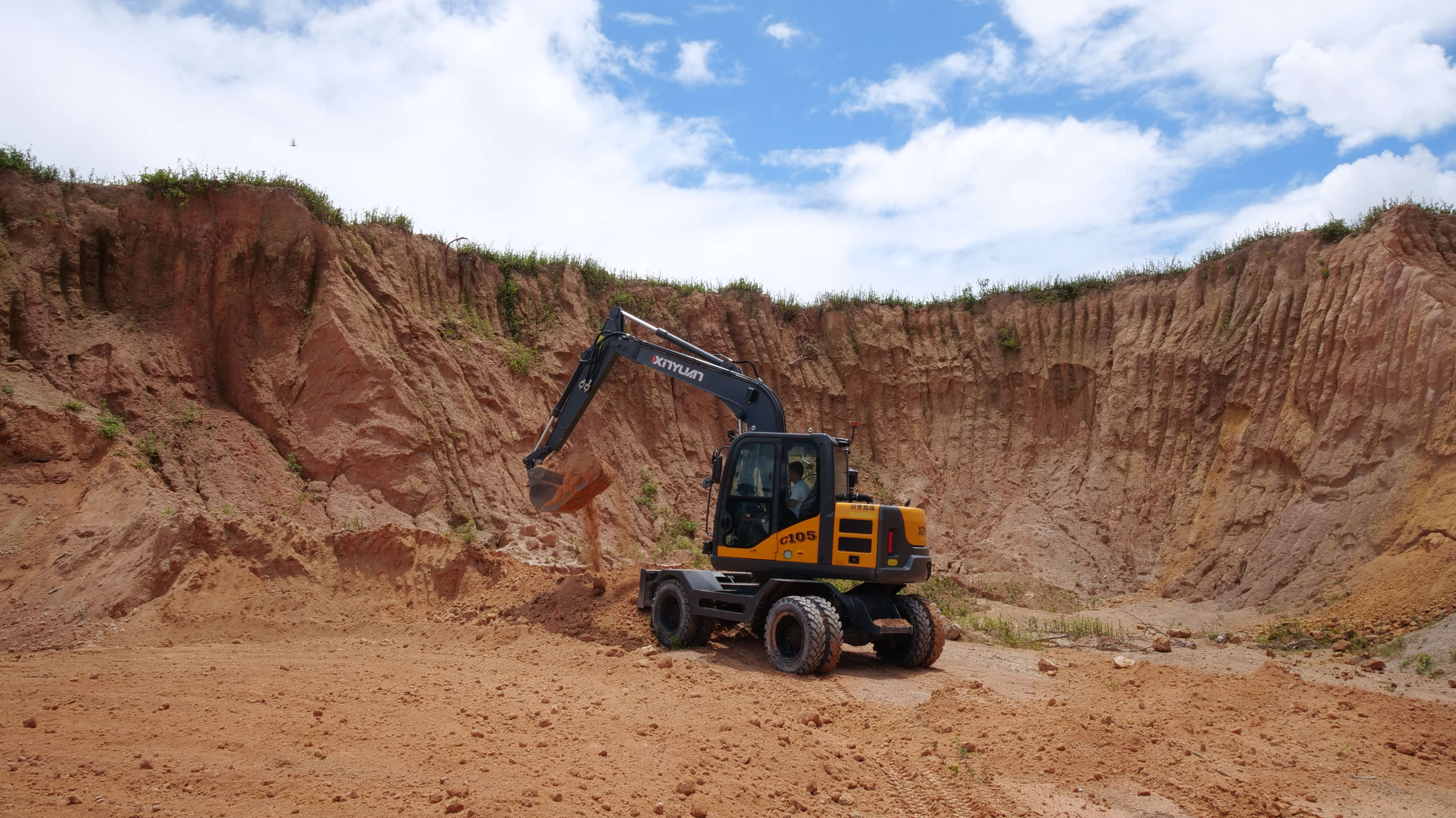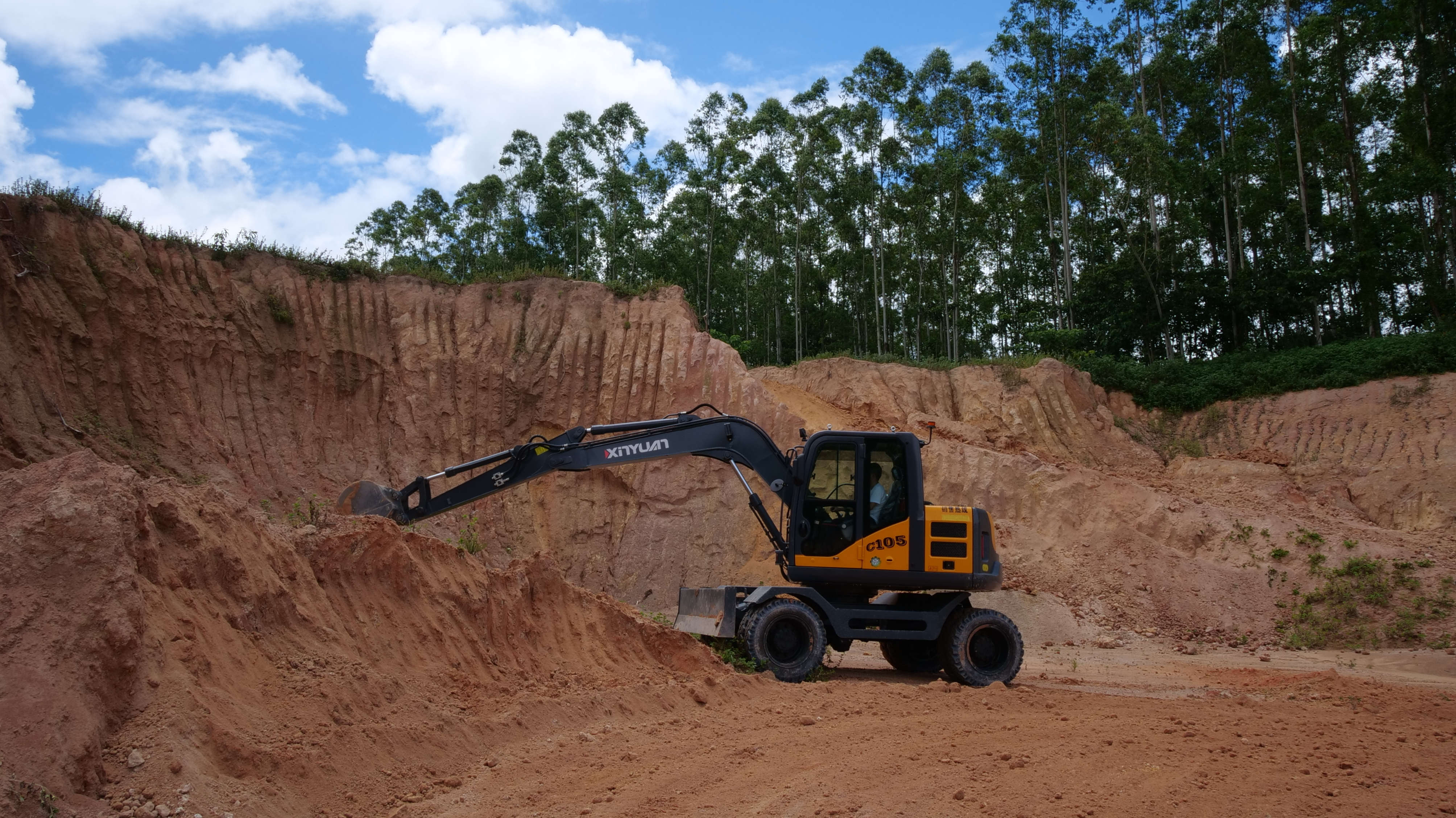 What are your main products?
---
Wheel excavators. We specialize in designing and manufacturing wheel excavators for more than 30 years.
Are you a manufactuer or trading company?
---
What kind terms of payment can be accepted?
---
For terms of payment, We accept T/T.
What certificates are available in Machinery?
---
We currently have CE, ISO9001, ISO14001, EAC certificates and more than 200 patents and certificates.
What about the delivery time?
---
Normally 7-15 days after receiving the deposit. In case of force majeure, time will be extended.
What about the Minimum Order Quantity?
---
What is your port for export shipping?
---
Get product quotes for free
Our staff will contact you within 24 hours (working days). If you need other services