XYC120WT Wheeled Excavator with Iron Suction Plate Magnet Lifter for Sale
High-end full hydraulic wheel excavator with high performance, high configuration, high reliability and high cost performance. Operating Weight: 9ton. Engine Model: Yuchai4DK. Rated Power: 73.5kw/2200rpm. Bucket: 0.32m³
Base Info
Dimension
Diameter
800mm
Weight
526KG
Electricity section
Control method
Adopt constant voltage control method
Current (cold)
18A
Power consumption (cold)
3.96KW
Lifting capacity
Steel balls:300KG
Cast iron ingots:480/250KG
Cutting chips:480/250KG
No.1 scrap steel:150/130KG
Cast iron chip steel:150/130KG
SPECIFICATIONS
RANGE OF OPERATION
Max Digging Reach
6865mm
Max Digging Depth
4075mm
Max Digging Height
7435mm
Max Dumping Height
5245mm
Min Front Radius
2250mm
Min Tail Radius
2090mm
DIMENSIONS
Overall Length
6375mm
Overall Width
2250mm
Overall Height
2950mm
Wheel Base
2500mm
Tyre Type
825-20
Width of Grouding
490mm
track
1755mm
Min Ground Clearance
345mm
Width of Bulldozing
2250mm
Rising distance of Bulldozing
500mm
Height of Bulldozing
85mm
Width of Bucket
780mm
TECHNICAL PARAMETERS
Model
XYC120WT
Engine
YUCHAI 4DK
Rated Power
73.5KW
Rated Speed
2200rpm
Machine Weight
8875kg
Volume of Bucket
0.32m³
Set Pressure of Main Overflow Valve
28Mpa
Max Digging Force
50kn
Gradeability
35°
Max traction Force
48kn
Max travel Speed
31km/h
Swing Speed of Platform
11rpm
Fuel Tank Capacity
180L
Hydraulic Tank Capacity
165L
Product Description
XYC120WT is a high-end full hydraulic wheel excavator with high performance, high configuration, high reliability and high cost performance. It is upgraded based on the C95 series high-end model to meet the needs of our customers.
Powerful Engine
Yuchai injection system engine provides a stronger power for the excavator
Efficient and Energy Saving Hydraulic System
Adopting the new hydraulic system, it can precisely control and provide the required hydraulic power according to the vehicle load, and the power loss is greatly reduced. The entire machine moves quickly and smoothly, and is far more efficient than conventional hydraulic systems, resulting in better fuel savings and reduced heat generation in the hydraulic system.
High Reliability and Durability
Equipped with double cylinders of the boom, the power is stronger for both excavation and lifting operations. The boom and bucket bar are reinforced, enabling a large effective working range. A variety of work attachments can be selected to meet the diverse needs for efficient production in different working conditions, bringing better profitability to users.
The large fuel tank of up to 180L, with energy efficient power, can have a longer operating life.
The chassis adopts a wide body design, the whole machine has a lower center of gravity and good operational stability. Uniform mass distribution can better ensure the balance of operation and travel. Equipped with efficient and flexible automatic transmission system, simple and comfortable operation, high efficiency. Adopt hydraulic transmission, realize the system of stepless variable speed. The fender is equipped with independent mounting base, which can be quickly disassembled and installed during maintenance.
Our independent research and development of the front and rear drive axles, access to a number of national patents, the core components are strengthened and enlarged, can adapt to more harsh operating environment, to meet the requirements of the whole life cycle of use. Reasonable matching, stable and reliable, low maintenance cost.
Large and Comfortable Cab
With a more spacious interior structure, the driver has more space to move effectively. Large size glass design, wide visibility and less blind spot. Equipped with double rail suspension seat, supporting multi-dimensional adjustment, adapting to different drivers. Ergonomic layout of the operating device, long hours of operation is not easy to fatigue. Equipped with dual high definition images for reversing and blind spot monitoring, and independent monitoring impact display.
Equipped with heating and cooling air conditioner, creating a more comfortable operating environment. There are electronic throttle knob, cigarette lighter, storage compartment, storage net pocket and other practical configurations, which are in line with the safety standards of hydraulic excavator operating room, equipped with fire extinguishers, escape hammer etc.
Convenience of Maintenance
Equipped with the intelligent control system, which can diagnose and alarm more than 800 kinds of faults in power, hydraulic and body in real time, enhance the target of maintenance, significantly reduce the difficulty of maintenance, and also realize the maintenance prompt.
Safe Operation
The side of the cab is equipped with large size glass, so that driver has a better side view. The rear view mirror is enlarged and the side view mirror is increased. The whole vehicle is upgraded with comprehensive light alarm system, which can better protect the safety of driving. High brightness LED tail light and independent backup light design, more conspicuous light source, more recognizable appearance. The cab top and side toolbox are equipped with warning lights, which can be controlled separately when driving and working.
This model is equipped with front and rear cameras, which ensure safer driving and operating.
Environment-friendly
Keeping the exhaust emission in line with our emission standards, the engine is environmentally friendly.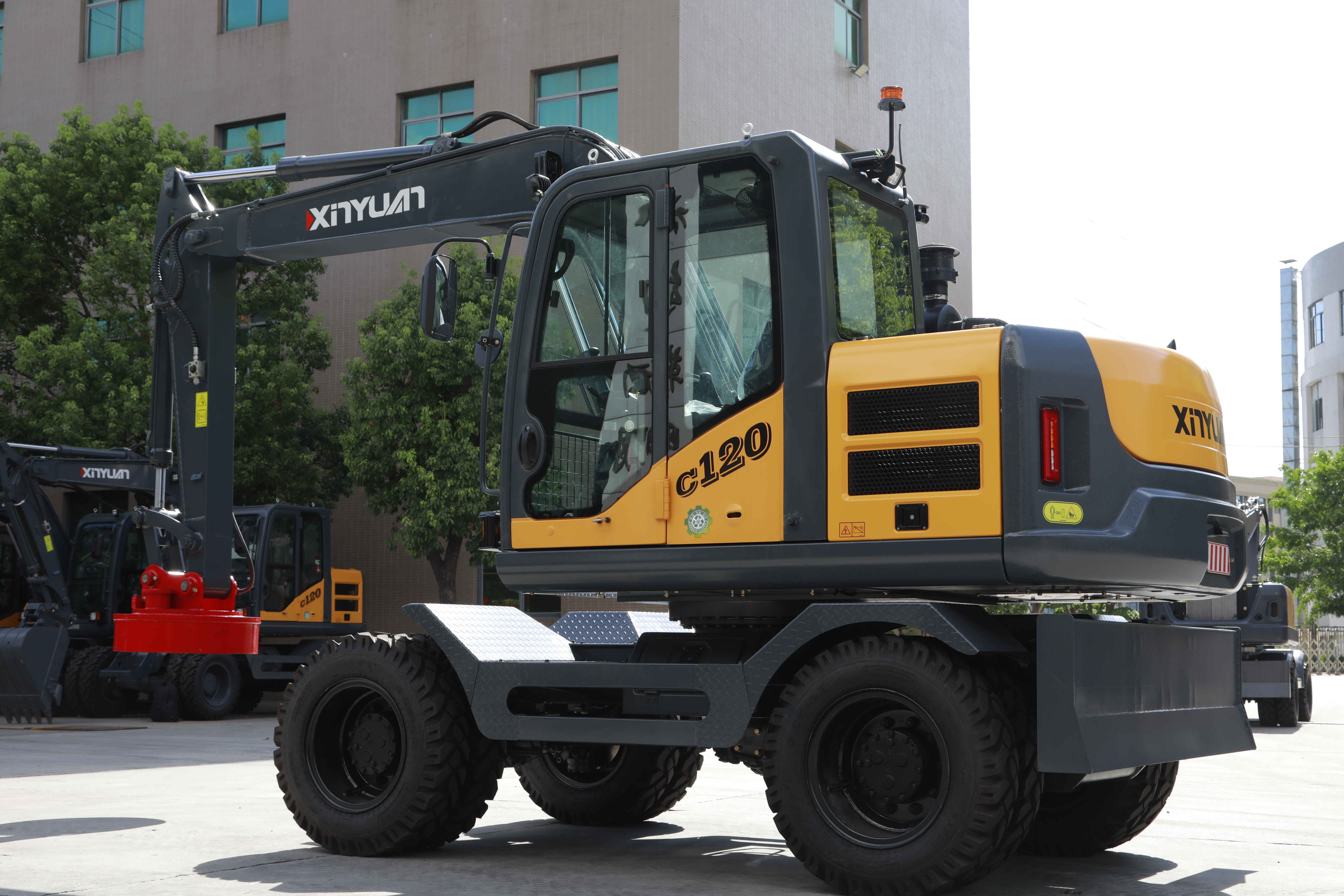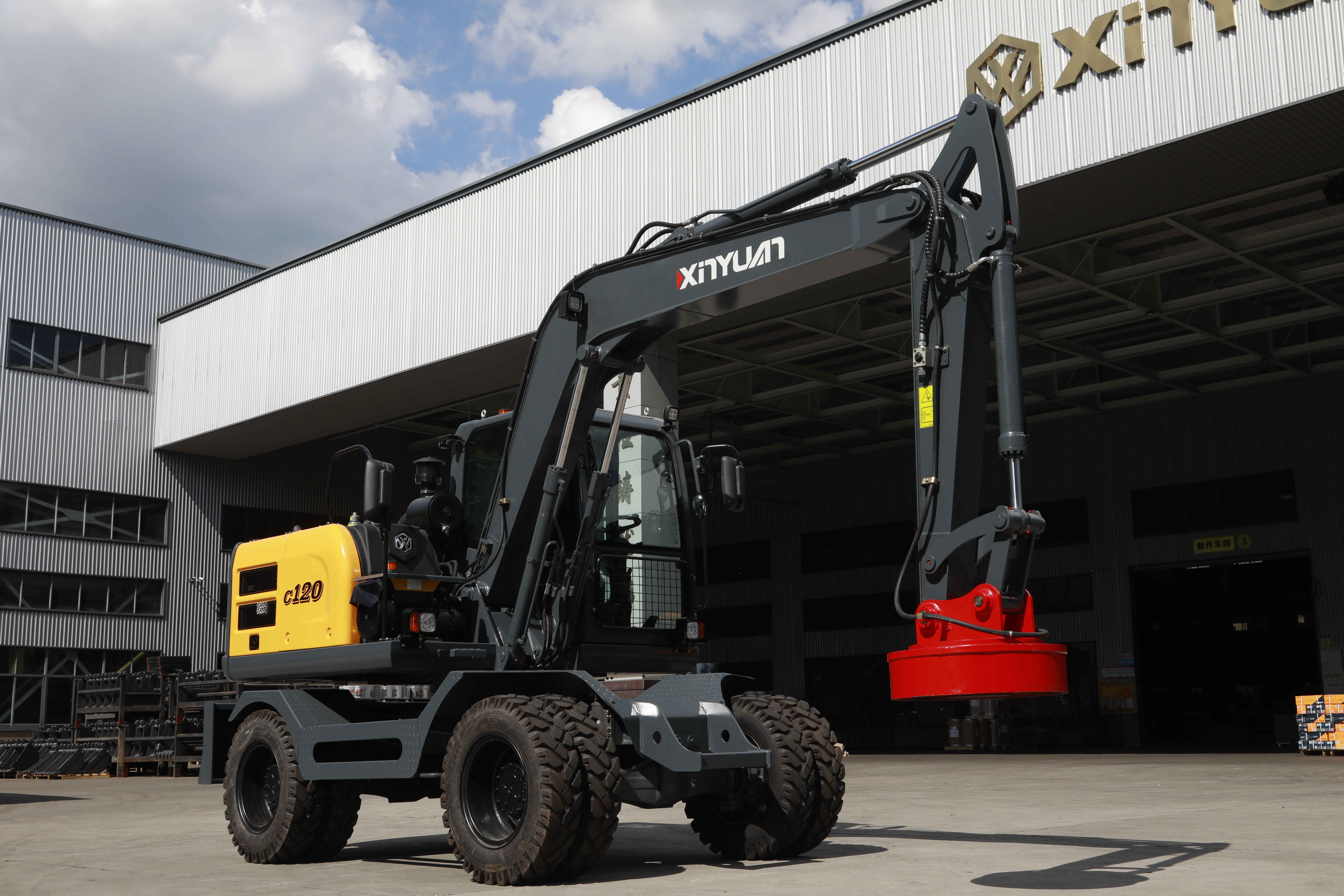 What are your main products?
---
Wheel excavators. We specialize in designing and manufacturing wheel excavators for more than 30 years.
Are you a manufactuer or trading company?
---
What kind terms of payment can be accepted?
---
For terms of payment, We accept T/T.
What certificates are available in Machinery?
---
We currently have CE, ISO9001, ISO14001, EAC certificates and more than 200 patents and certificates.
What about the delivery time?
---
Normally 7-15 days after receiving the deposit. In case of force majeure, time will be extended.
What about the Minimum Order Quantity?
---
What is your port for export shipping?
---
Get product quotes for free
Our staff will contact you within 24 hours (working days). If you need other services