XYB65ECO Mini Wheel Excavator Price for Sale
Xinyuan Newest model. Hotsale bucket wheel excavator. Operating Weight: 6ton. Engine Model: Xinchai4D35X31. Rated Power: 48kw/2200rpm. Bucket: 0.2m³
Basic Info.
| | | | |
| --- | --- | --- | --- |
| Model No. | XYB65ECO | Drive Type | Internal Combustion Drive |
| Bucket Capacity | 0.2m³ | Size | Small-Sized |
| Certificates | CE, ISO9001:2015, ISO14001:2015 | Condition | New |
| Machine Welght | 8300KG | Engine | XINCHAI |
| Power/speed | 48KW/2200rpm | Max Digging Force | 35kn |
| Max travel Speed | 28km/h | Transport Package | Nude Packing |
| Specificatlon | 5910mm*1980mm*2800mm | Trademark | Xinyuan |
| Origin | China | Production Capacity | 10000 Pieces/Year |
Product Description
XYB65ECO is the newest and one of Xinyuan hottest wheel excavator, it meets the latest environmental emission standards of China and has the distinctive features of high efficiency, energy saving, mobility, flexibility and reliability, and has more advantages in municipal maintenance works, highway traffic construction and quick repair, creating higher value for customers. The newest generation of excavator has unlimited possibilities.
Unique Air-blowing Heat Dissipation System
The unique air blowing heat dissipation system can dissipate heat from the rear of the cockpit and provide powerful heat dissipation even at 45℃ ambient temperature.
It can also provide powerful heat dissipation capability. Rejects high temperature and keeps cool.
Solid Body Structure and Working Device
The new upper platform has a more scientific mechanical design and high strength steel
Guarantee the body to meet the whole life cycle usage requirements
The movable arm is designed laterally to optimize the overall force structure.
The movable arm bucket bar adopts closed box type welding structure
Reinforced center support design
Higher overall strength and stiffness
Better torsion resistance and fatigue performance
Scientific articulation point design, stronger digging torque
Robot welding, high quality and more stable weld seam
Operating Range
Max Digging Reach 6120mm
Max Digging Depth 3190mm
Max Digging Height 6075mm
Max Dumping Height 4500mm
Min Front Radius 2135mm
Min Tail Radius 1790mm
Compact body provides great maneuverability
Able to travel flexibly in narrow construction areas
Side-mounted boom design
Stable and reliable.
Special Engineering Tires
Special engineering tires with many patented technologies
Developed and designed for harsh working conditions
Original tread pattern design for better grip
Enhanced casing structure, high performance rubber formula
Longer service life, more wear and puncture resistance
Less tire deformation during driving and operation
Better overall support, higher stability
Longer service life, more wear and puncture resistance
Comfortable Driving Space
Spacious and comfortable interior structure
Front-mounted transmission shift lever
Ergonomically designed operation layout
Large glass design, wide visibility and small blind spots
Dual rail suspension seats with flexible adjustment
Air conditioning multi-point three-dimensional air vents, can quickly control the temperature
Equipped with cell phone Bluetooth audio, cup holder, storage compartment, etc.
New configuration of brake control quick button
Exquisite Appearance Design
Family-style design language is adopted for the exterior
Perfect combination of high aesthetic value and practicality
Compact and refined exterior design with full sense of power
New "Iron Arm" paint color scheme, calm and heavy
Covering parts are all made by stamping one-piece molding process
Flat and smooth paint surface, beautiful and lasting
Windowed design for maintenance items, more convenient for overhaul
Diversified storage space, effective storage of tools with the car

Safe and Reliable
The upper platform cover adopts low body design
The side of the cab is equipped with large size glass
Driver has better side view
The whole vehicle is upgraded with light alarm system
For safe operation
High brightness LED tail light and independent reversing light design
The cab top and side toolbox are equipped with warning lights
Higher recognition, conspicuous and safe
SPECIFICATIONS
RANGE OF OPERATION
Max Digging Reach
6120mm
Max Digging Depth
3190mm
Max Digging Height
6075mm
Max Dumping Height
4500mm
Min Front Radius
2135mm
Min Tail Radius
1790mm
DIMENSIONS
Overall Length
5910mm
Overall Width
1980mm
Overall Height
2800mm
Wheel Base
2410mm
Tyre Type
750-16
Width of Grouding
410mm
track
1520mm
Min Ground Clearance
225mm
Width of Bulldozing
1980mm
Rising distance of Bulldozing
390mm
Height of Bulldozing
45mm
Width of Bucket
630mm
TECHNICAL PARAMETERS
Model
XYB65ECO
Engine
Xinchai4D35X31
Rated Power
48KW
Rated Speed
2200rpm
Machine Weight
5510kg
Volume of Bucket
0.2m³
Set Pressure of Main Overflow Valve
22Mpa
Max Digging Force
35kn
Gradeability
35°
Max traction Force
35kn
Max travel Speed
28km/h
Swing Speed of Platform
8.5rpm
Fuel Tank Capacity
130L
Hydraulic Tank Capacity
115L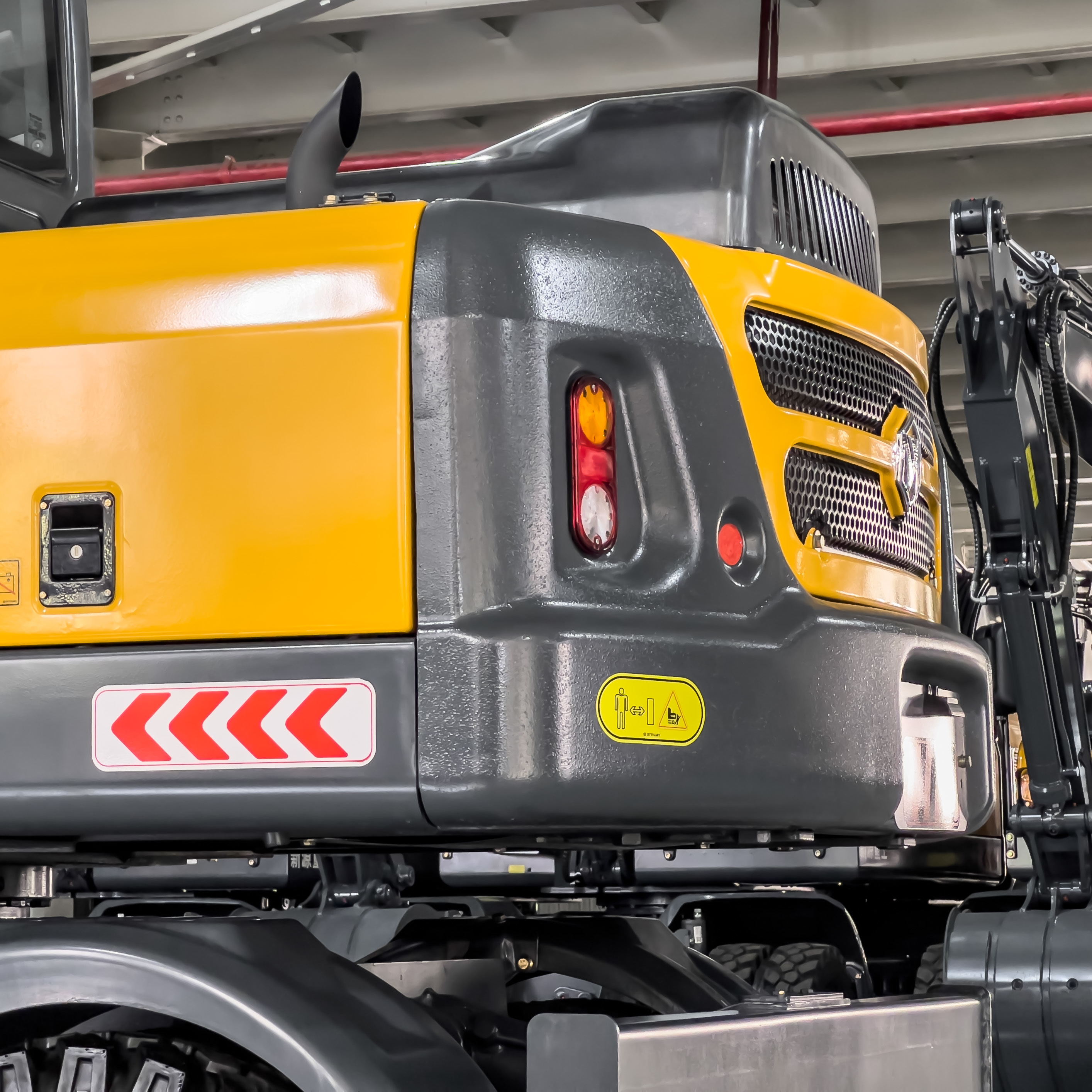 What are your main products?
---
Wheel excavators. We specialize in designing and manufacturing wheel excavators for more than 30 years.
Are you a manufactuer or trading company?
---
What kind terms of payment can be accepted?
---
For terms of payment, We accept T/T.
What certificates are available in Machinery?
---
We currently have CE, ISO9001, ISO14001, EAC certificates and more than 200 patents and certificates.
What about the delivery time?
---
Normally 7-15 days after receiving the deposit. In case of force majeure, time will be extended.
What about the Minimum Order Quantity?
---
What is your port for export shipping?
---
Get product quotes for free
Our staff will contact you within 24 hours (working days). If you need other services