XYB70SWTJ 7 ton General Wheel Excavator Construction Machinery with Clamp Pipes
Economic Hydraulic Transmission wheel excavator with clamp pipes. Operating Weight: 7 ton. Rated Power: 48kw/2200rpm. Engine Model: YUCHAI 4F30. Standard Bucket: 0.2m³
Basic Info.
| | | | |
| --- | --- | --- | --- |
| Model No. | XYB70SWTJ | Drive Type | Internal Combustion Drive |
| Bucket Capacity | 0.2m³ | Size | Small-Sized |
| Certificates | CE, ISO9001:2015, ISO14001:2015 | Condition | New |
| Machine Weight | 6645kg | Engine | YUCHAI |
| Power Speed | 48KW/2200rpm | Max Dlgglng Force | 35kn |
| Max Travel Speed | 30km/h | Transport Package | Nude Packing |
| Specification | 5835mm*2010mm*2800mm | Trademark | Xinyuan |
| Origin | China | Production Capacity | 10000 Pieces/Year |
Product Description
XYB70SWTJ product positioning: Economic Hydraulic Transmission wheel excavator. It is a cost-effective product with excellent performance, precise control, flexible mobility, reliable quality, comfortable experience, beautiful shape, convenient and practical features.
Machine weight is 6645KG, the overall length of the machine is only 5835mm, small turning radius. The body height is only 2800mm, which can pass through the lower height limit area. The compact size of the body, more flexible, can adapt to more operating environments.
Powerful Engine
XYB70SWTJ system is equipped with Yuchai 4F30 series diesel engine, which meets the latest emission standards for off-road machinery, with high power and more powerful.
Advanced Fuel System
Adopt electric control high-pressure common rail fuel system, with even atomization, full combustion and low fuel consumption.
High Stability of Rotational Speed Control
Sudden load speed fluctuation less than 20r/min, high stability, fast response, high efficiency
New load-sensitive Hydraulic System
It can precisely control and provide the required hydraulic power according to the vehicle load, and the power loss is greatly reduced.
Efficient Heat Dissipation System
Body design separating line to isolate the high temperature area of the machine, so that the power heat does not affect the comfort and the temperature of the fuel tank components. Good gas cooling, low noise and better driving comfort.
Minimum Front Turning Radius
XYB70SWTJ has an unparalleled advantage in loading operations because it takes up little space during operation but has a large overall operating range.
Large Capacity Fuel Tank
With a large capacity of 140L, the B70S can have a longer range with lower fuel consumption.
Large Wheelbase
It can provide strong support for the collection. Stability is good no matter when driving at high speed or steering.
Comfortable Driving Space
XYB70SWTJ has a spacious interior with large space for effective driver movement. Comprehensive large-size glass design with wide visibility and small blind spots. The front-mounted intelligent instrument panel has a rich display of operational information. The ergonomic layout of the operating device provides long hours of operation without fatigue. Equipped with heating and cooling air conditioner, creating a more comfortable operating environment. There are electronic throttle knob, cigarette lighter, storage compartment, storage net pocket and other practical configurations, which are in line with the safety standards of hydraulic excavator operating room, equipped with fire extinguishers, escape hammer etc.
Safety
The side of the cab is equipped with large size glass, so the driver has a better side view. The whole vehicle is upgraded with light alarm system for safe driving.
Environmentally Friendly
Keep exhaust emission in line with our country's Emission Standards, the engine is environmentally friendly.
SPECIFICATIONS
RANGE OF OPERATION
Max Digging Reach
6535mm
Max Digging Depth
3530mm
Max Digging Height
6715mm
Max Dumping Height
4905mm
Min Front Radius
2275mm
Min Tail Radius
1665mm
DIMENSIONS
Overall Length
5835mm
Overall Width
2010mm
Overall Height
2800mm
Wheel Base
2410mm
Tyre Type
825-16
Width of Grouding
430mm
track
1520mm
Min Ground Clearance
245mm
Width of Bulldozing
1910mm
Rising distance of Bulldozing
390mm
Height of Bulldozing
45mm
Width of Bucket
700mm
TECHNICAL PARAMETERS
Model
XYB70SWTJ
Engine
YUCHAI 4F30
Rated Power
48kw
Rated Speed
2200rpm
Machine Weight
6645kg
Volume of Bucket
0.2m³
Set Pressure of Main Overflow Valve
24Mpa
Max Digging Force
35kn
Gradeability
35°
Max traction Force
32kn
Max travel Speed
30km/h
Swing Speed of Platform
10.5rpm
Fuel Tank Capacity
140L
Hydraulic Tank Capacity
120L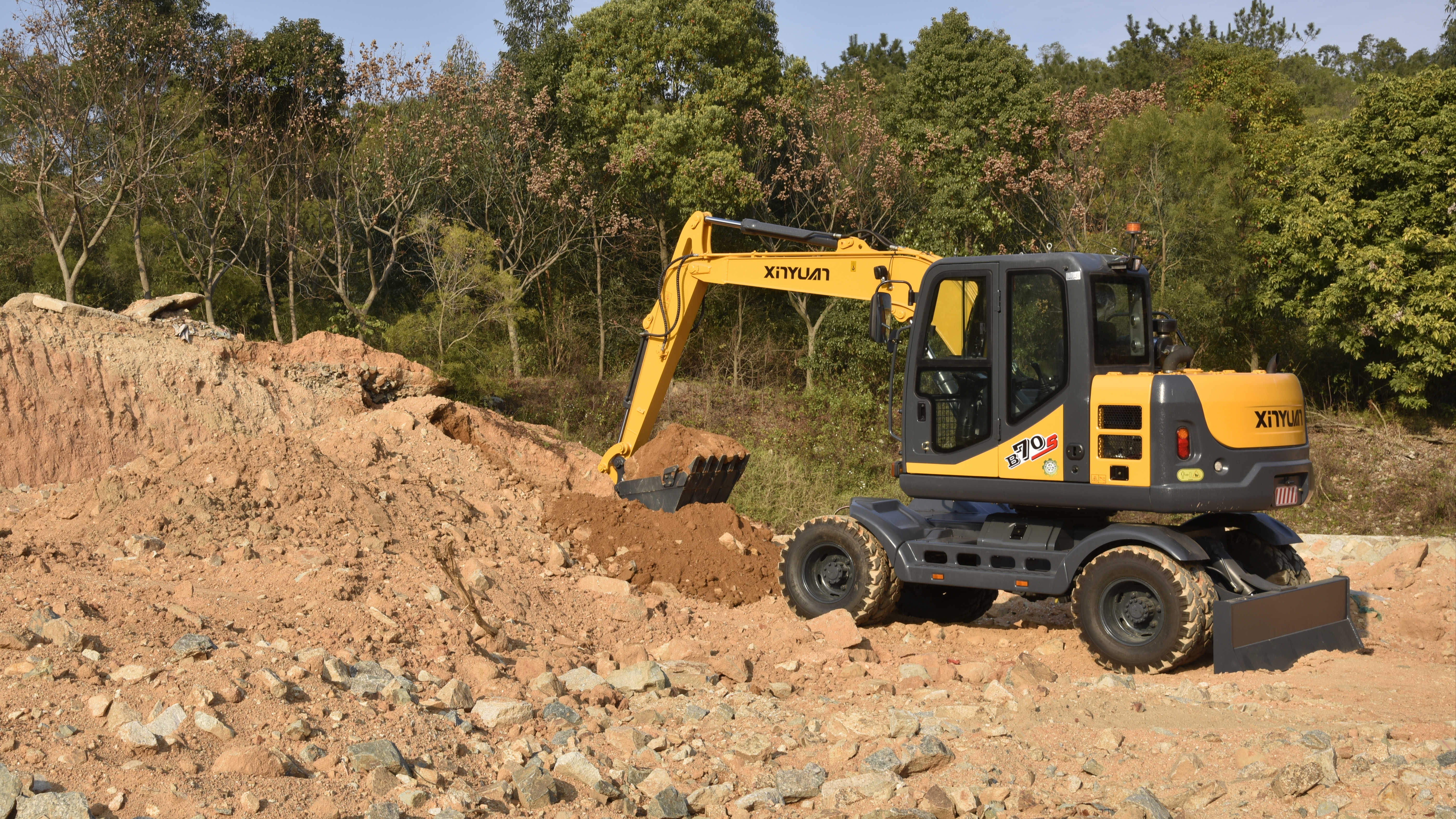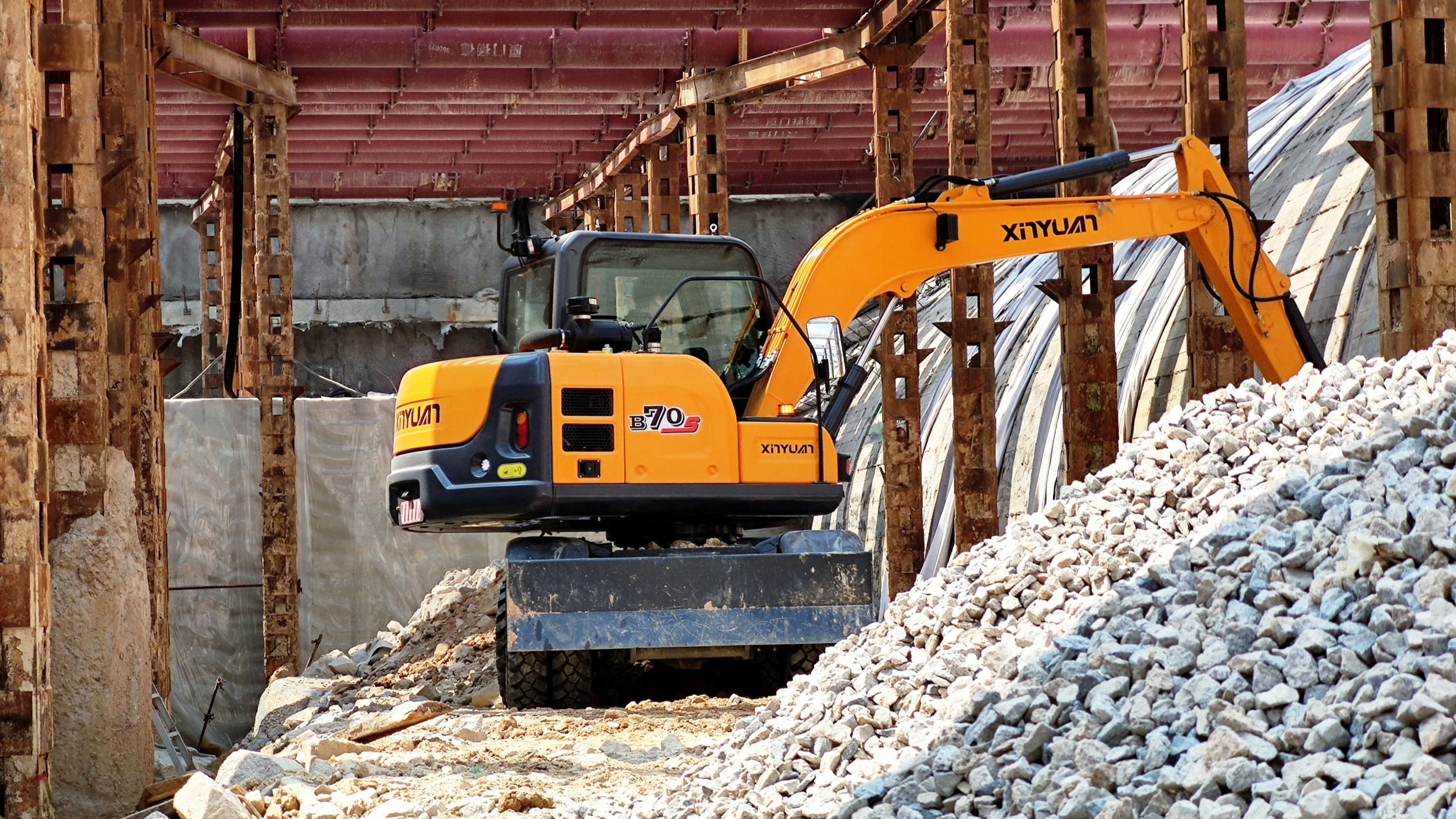 What are your main products?
---
Wheel excavators. We specialize in designing and manufacturing wheel excavators for more than 30 years.
Are you a manufactuer or trading company?
---
What kind terms of payment can be accepted?
---
For terms of payment, We accept T/T.
What certificates are available in Machinery?
---
We currently have CE, ISO9001, ISO14001, EAC certificates and more than 200 patents and certificates.
What about the delivery time?
---
Normally 7-15 days after receiving the deposit. In case of force majeure, time will be extended.
What about the Minimum Order Quantity?
---
What is your port for export shipping?
---
Get product quotes for free
Our staff will contact you within 24 hours (working days). If you need other services