XYB70L Crawler Excavator with Backhoe Bucket For Sale
Cost-effective crawler excavator. Operating Weight: 7ton. Engine Model: YUCHAI 4F30. Rated Power: 36.8kw/2100rpm. Bucket: 0.2m³
Basic Info.
| | | | |
| --- | --- | --- | --- |
| Model No. | XYB70L | Drive Type | Internal Combustion Drive |
| Bucket Capacity | 0.2m³ | Size | Small-Sized |
| Certification | CE, ISO9001:2015, ISO14001:2015 | Condition | New |
| Machine Welght | 6500KG | Englne | YUCHAI |
| Power/speed | 36.8KW/2100rpm | Max Digging Force | 50kn |
| Max travel Speed | 4.6km/h | Export Package | Nude Packing |
| Specificatlon | 5960mm*2010mm*2570mm | Trademark | Xinyuan |
| Origin | China | Production Capacity | 10000 Pieces/Year |
XYB70L full hydraulic crawler excavator is a cost-effective product, it's designed and manufactured based on our years experience, implemented the new design concept and gather a number of advantage.
Powerful engine
XYB70L crawler excavator is equipped with powerful Yuchai 4F30 36.8kw/2100rpm engine, extremely support the power and performance needed for different kinds of working environments.
Efficient and Energy Saving Hydraulic System
Adopting the new hydraulic system, it can precisely control and provide the required hydraulic power according to the vehicle load, and the power loss is greatly reduced. The entire machine moves quickly and smoothly, and is far more efficient than conventional hydraulic systems, resulting in better fuel savings and reduced heat generation in the hydraulic system.
High Reliability and Durability
Equipped with double cylinders of the boom, the power is stronger for both excavation and lifting operations. The boom and bucket bar are reinforced, enabling a large effective working range. A variety of work attachments can be selected to meet the diverse needs for efficient production in different working conditions, bringing better profitability to users.
The large fuel tank of up to 140L, with energy efficient power, can have a longer operating life.
Large and Comfortable Cab
With a more spacious interior structure, the driver has more space to move effectively. Large size glass design, wide visibility and less blind spot. Equipped with double rail suspension seat, supporting multi-dimensional adjustment, adapting to different drivers. Ergonomic layout of the operating device, long hours of operation is not easy to fatigue. Equipped with dual high definition images for reversing and blind spot monitoring, and independent monitoring impact display.
There are electronic throttle knob, cigarette lighter, storage compartment, storage net pocket and other practical configurations, which are in line with the safety standards of hydraulic excavator operating room, equipped with fire extinguishers, escape hammer etc.
Safe Operation
The side of the cab is equipped with large size glass, so that driver has a better side view. The rear view mirror is enlarged and the side view mirror is increased. The whole vehicle is upgraded with comprehensive light alarm system, which can better protect the safety of driving. High brightness LED tail light and independent backup light design, more conspicuous light source, more recognizable appearance. The cab top and side toolbox are equipped with warning lights, which can be controlled separately when driving and working.
This model is equipped with front and rear cameras, which ensure safer driving and operating.
Environment-friendly
Keeping the exhaust emission in line with our emission standards, the engine is environmentally friendly.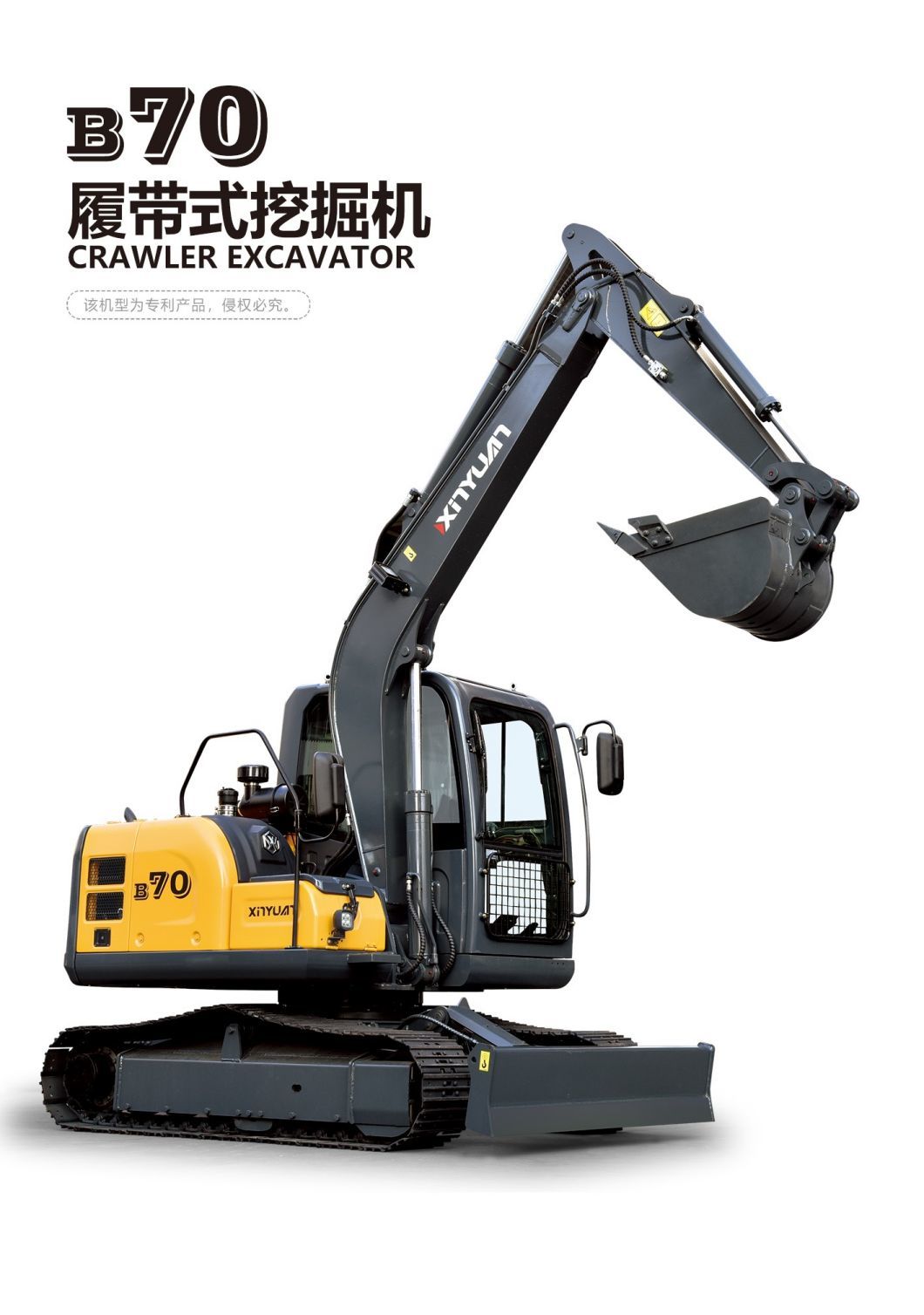 SPECIFICATIONS
RANGE OF OPERATION
Max Digging Reach
6330mm
Max Digging Depth
3690mm
Max Digging Height
6040mm
Max Dumping Height
4485mm
Min Front Radius
2335mm
Min Tail Radius
1655mm
DIMENSIONS
Overall Length
5960mm
Overall Width
2010mm
Overall Height
2570mm
Length of Crawler
2745mm
Width of Crawler
400mm
Width of Grouding
2000mm
track
1600mm
Min Ground Clearance
360mm
Width of Bulldozing
2000mm
Rising distance of Bulldozing
460mm
Height of Bulldozing
395mm
Width of Bucket
680mm
TECHNICAL PARAMETERS
Model
XYB70L
Engine
YUCHAI 4F30
Rated Power
36.8KW
Rated Speed
2100rpm
Machine Weight
6500kg
Volume of Bucket
0.2m³
Set Pressure of Main Overflow Valve
24Mpa
Max Digging Force
50kn
Gradeability
35°
Max traction Force
45kn
Max travel Speed
4.6km/h
Swing Speed of Platform
10rpm
Fuel Tank Capacity
140L
Hydraulic Tank Capacity
120L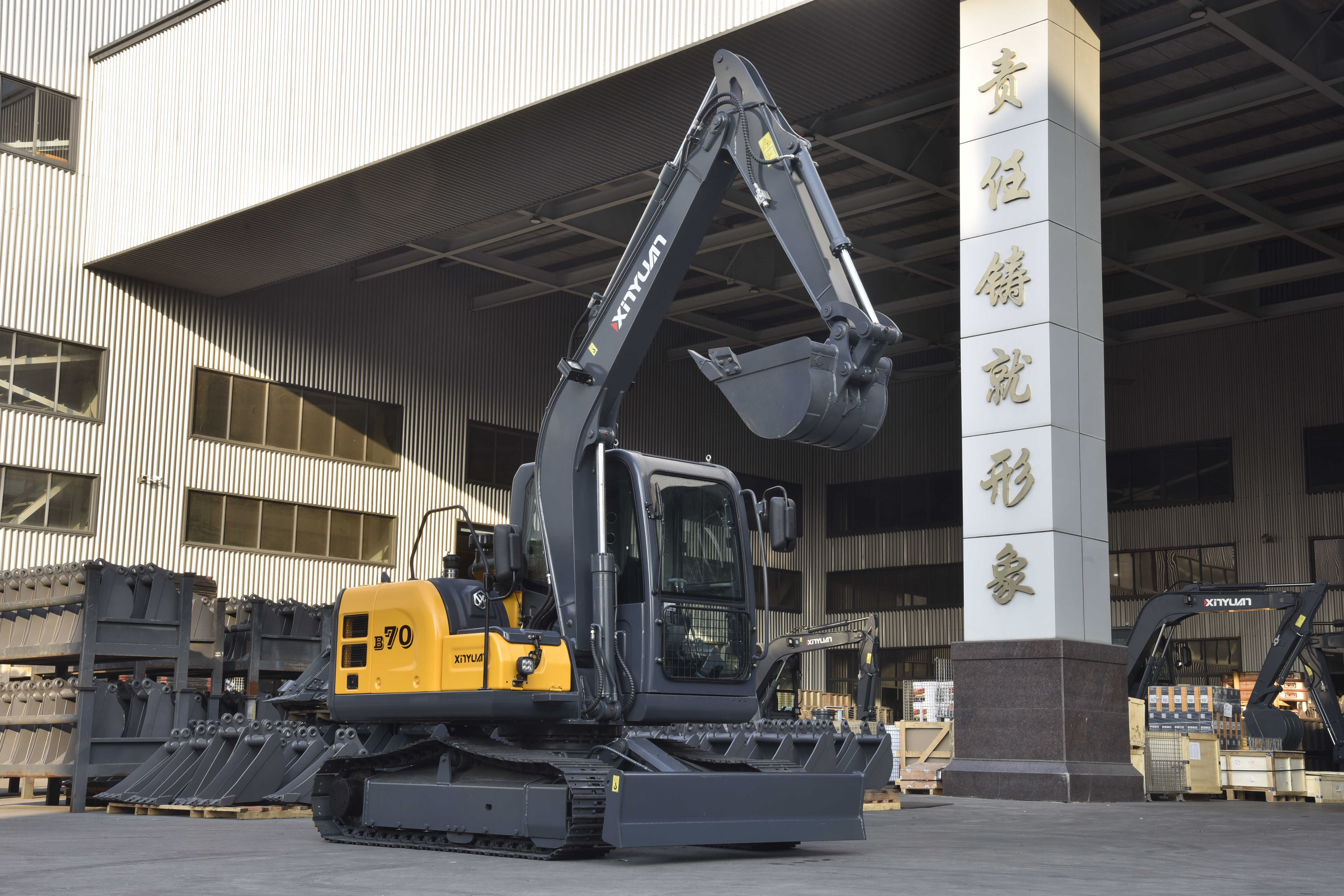 Looking for a mini excavator for sale at a competitive price? We understand that finding the right equipment within your budget is essential. Mini excavators, also known as compact excavators, offer versatility and maneuverability for various construction, landscaping, and utility projects. Here are two options with competitive pricing:
Model A: This mini excavator is a perfect combination of power and affordability. With a compact design and a lightweight structure, it excels in working in tight spaces while delivering exceptional digging and lifting capabilities. Equipped with a reliable engine and advanced hydraulic system, it ensures efficient and smooth operation. The attached bucket provides excellent digging and loading performance. Despite its competitive pricing, this model offers durability, reliability, and ease of maintenance.
Model B: Designed to meet the needs of professionals seeking an affordable yet highly capable mini excavator, this model is packed with features that deliver exceptional value for its price. It offers a powerful engine and improved fuel efficiency for reduced operating costs. With advanced hydraulic systems and attachments such as buckets, thumbs, and augers, this mini excavator performs a wide range of tasks with precision and speed. It also features enhanced operator comfort, easy maintenance, and excellent safety features.
Both options mentioned above come from reputable manufacturers renowned for their to quality and performance. They backed by comprehensive warranties and after-sales support, ensuring peace of mind for your investment. By setting competitive prices without compromising on quality, these mini excavators provide excellent value for money.
When considering the price of a mini excavator for sale, it's important to assess your specific needs, including the required digging depth, lifting capacity, and available attachments. Additionally, consider the reputation of the manufacturer, the availability of spare parts, and the level of customer support provided.
Remember, while the price is a vital factor, it should not be the sole determining factor. Quality, durability, and long-term performance should also be considered to ensure that your mini excavator investment serves you well for years to come.
What are your main products?
---
Wheel excavators. We specialize in designing and manufacturing wheel excavators for more than 30 years.
Are you a manufactuer or trading company?
---
What kind terms of payment can be accepted?
---
For terms of payment, We accept T/T.
What certificates are available in Machinery?
---
We currently have CE, ISO9001, ISO14001, EAC certificates and more than 200 patents and certificates.
What about the delivery time?
---
Normally 7-15 days after receiving the deposit. In case of force majeure, time will be extended.
What about the Minimum Order Quantity?
---
What is your port for export shipping?
---
Get product quotes for free
Our staff will contact you within 24 hours (working days). If you need other services