---
Fujian Xinyuan Heavy Industries Co., Ltd. Stays at the Top of Wheel Excavator Users' Brand Attention Ranking in the First Half of 2023
Fujian Xinyuan Heavy Industries Co., Ltd.
---
Recently, China Road Machinery Network announced the data of "2023 (January-June) Wheel Excavator Users' Brand Attention Ranking" in Beijing, and Xinyuan Heavy Industries won the top of the ranking by virtue of its high performance, high value-retention rate and high market share.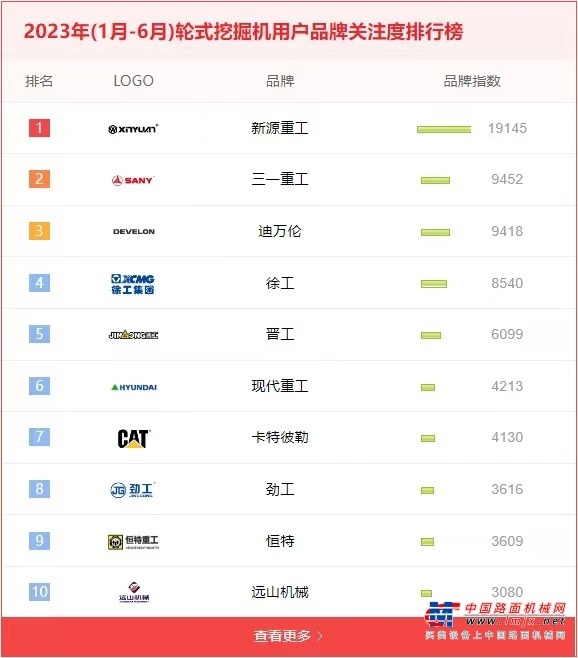 The Brand Attention Ranking of Wheel Excavator Users in 2023 (January-June) is a brand attention index generated based on the number of browsing and online inquiries of all brands and products by a large number of users of China Road Machinery Network in 2023 (January-June). The list faithfully reflects the preference of a part of industry users for brands and products, and can quickly and keenly reflect the influence and coverage of enterprise brands and products in the user group as well as the ever-changing process of industry users' attention.

As a leading enterprise in the field of China wheel excavator, Xinyuan wheel excavator, which wins by quality, has been highly favored by customers. According to the statistics of China Construction Machinery Industry Association, in 2022, Xinyuan Heavy Industries won the sales champion of the wheel excavator industry with a high share of 47.7%, which is the first chair of domestic wheel excavator. This is also the Xinyuan wheel excavator for many consecutive years to win this award. This time topped the "2023 (January-June) Wheel Excavator User Brand Attention Ranking", once again confirming the brand strength of Xinyuan Heavy Industries!
The wind is blowing vigorously, and the heavy responsibility is a thousand pounds. In the future, Xinyuan Heavy Industries will continue to follow the trend of the times, plowing the wheel excavator technology steadily, to provide customers with more excellent products and create greater value!